Welcome to the website for the Whole In One Golf Camp at The Ohio State University. On this site you will find general information about the camp, facility information, biographies from our lead team members, and an application for participation in the camp. We have designed the camp for children ages 6-12 who have been diagnosed with autism OR Down syndrome.

We are excited to announce that the golf camp WILL RUN in 2023!  
AT A GLANCE
WHO:  Children who are ages 6 to 12 that have been diagnosed with either autism or Down syndrome
WHEN: June 12 – 16, 2023
Morning session (ages 6-9): 9:00am to 11:30am
Afternoon session (ages 10-12): 12:30pm to 3:00pm
WHERE: 
The Ohio State University Recreation and Physical Activity Center (RPAC)
View Map
The final day of camp will be held at Raymond Memorial Golf Course
View Map
COST: $25 (non-refundable registration fee)
Why Golf?
Participation in sports has helped countless individuals enjoy overall health, self-discipline, higher self-esteem, improved leadership skills, etc. The special needs population is no different. In fact, physical activity is critical for the management of obesity, behavior issues, motor function and positive social outcomes. Most children with disabilities receive physical education through his/her local school district. However, opportunities during the summer months are limited. Currently, there are no summer sport camps for special populations in the state of Ohio or surrounding areas. There are a handful of camps that include physical activity as a part of a larger curriculum, but none that focus exclusively on sports skills, particularly golf.
From Jack Nicklaus to the Memorial Tournament in Muirfield, golf has played a significant role in Central Ohio. Both public and private courses are busy with activity on all or most days of the week. The sport attracts people of all ages with varying levels of skill. One local public course reports hosting 40,000 to 50,000 golfers each year.  Golf provides an opportunity for children to develop skills for a sport that can continue throughout one's entire lifespan. It promotes an active lifestyle and improves social interaction.
Camp Details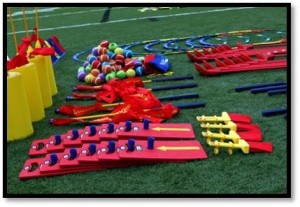 The Whole In One Camp participants will use SNAG (Start New At Golf) method and equipment, which allows for effective instruction for beginners to the game of golf.
Days one through four will be conducted in the golf area of the Recreation and Physical Activity Center on the campus of The Ohio State University. On the final day of camp, participants will meet at Raymond Memorial Golf Course to be able to apply his or her new skills on an actual course. We will also host a celebration for the families of our campers at that time.
The camp will be held from June 12 – 16, 2023.  Our younger campers (ages 6-9) will be practicing during Session 1 (9:00AM-11:30AM) and our older campers (ages 10-12) will be practicing during the Session 2 (12:30PM-3:00PM).  All campers will receive camp t-shirts, a backpack and water bottle.
Facilities
The camp will be held at the Recreation and Physical Activity Center (RPAC) on The Ohio State University main campus in our state-of-the-art student recreation center. We will be using one gymnasium, the golf hitting stations, and the putting and chipping green.
Camp Leadership
Camp Director – Jae Westfall, MS and Director of the Sport, Fitness and Health Program of the College of Education and Human Ecology, initiated the summer golf camp for children on the autism spectrum. With her experience in adapted physical education and extensive background in Exercise Physiology, Health and Wellness initiatives, she will provide senior leadership for Camp Whole in One. She will ensure that children have an experience that is safe, secure, and successful while learning the fundamentals of the game of golf.
Camp Coordinator – Kelly Trent is a graduate of The Ohio State University and is currently the Head Professional and Program Manager at Raymond Memorial Golf Course, a facility owned and operated by the City of Columbus Department of Parks and Recreation. She also serves as the Golf Coordinator for the Sport, Fitness and Health Program at The Ohio State University. Kelly has been the recipient of many awards and honors. She was inducted into the OSU Athletics Hall of Fame in 2002 and was named as one of Golf For Women's Top Fifty Teacher in America. Kelly has been an inspiration to many golfers for over 30 years and has worked with adults and children, including those with special needs. She has tremendous experience with organizing and implementing golf camps in Central Ohio.
2017 Camp Photos
Thank you to our partners and sponsors: