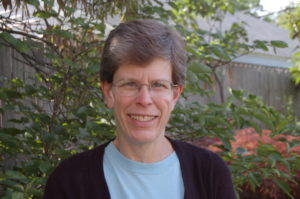 Our next featured instructor is Elaine Torrie.  Elaine has been with us at Ohio State since the summer of 2014 where she started out as a part-time yoga instructor for the Sport, Fitness, and Health Program.  Although she was new to teaching at Ohio State, she was not new to Yoga.
Her journey with yoga began about 20 years ago.  As an avid bike rider, she was looking for something to help build strength, flexibility and focus for cycling.  After about ten years of practicing for herself, Elaine sought to teach yoga to others.  She said that she was motivated to teach yoga, in part, due to a friend that was very nervous about an upcoming surgery.  Elaine believed that the practices and philosophy of yoga would prepare her friend mentally and physically for that upcoming surgery.
For Elaine, helping and teaching others is in her blood.  Her father was a teacher and ever since undergrad, she had a desire to teach here at Ohio State.  For her, it's all about seeing students connect the things they learn in class with their personal interests or lives.  When the opportunity to teach with SFHP finally presented itself, she jumped right in.
At first, she taught a single yoga class in the evenings to work around her full-time job's schedule.  A couple months later, Elaine had the opportunity to teach more for us.  Not long after that, she started teaching with us full-time.  Over that period of time, Elaine's teaching experience branched out beyond just Yoga.  It seems like each semester she would add a new subject to teach.  First it was First Aid & CPR, then it was Principles of Fitness and Wellness and next she will begin teaching one of our stress management courses.
Be on the lookout for Elaine who will be teaching Yoga 1, Yoga 2, Basic First Aid & CPR, Principles of Fitness and Wellness, and Stress Management for the College Student in Autumn 2018.