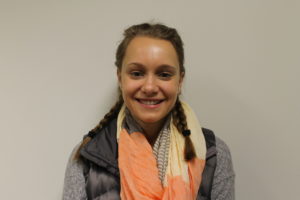 As another semester draws to a close, we would like to feature a student who embodies the goals of our program: Katie Jira!  Katie is a sophomore studying Exercise Science and working with our Pre-physical therapy program.
Katie described herself as someone who really enjoys structure and plans.  She was used to an organized and disciplined lifestyle while she was a softball athlete for most of her childhood.  Unfortunately, Katie suffered an injury that interrupted her routines and stopped her from exercising regularly.
While her "Introduction to Health and Wellness in American Society" course initially started off as just a credit to cover a pre-requisite, it developed into something more.  The KNSFHP 1103 course is designed to assign students individual health and wellness goals so they better understand the subject matter through personal experience and tangible results.
Katie was nominated to be featured by her instructor, Sherri DeRhodes, because Katie "thoughtfully [responded] to the material and assignments, seeing how they relate to her own life."  Sherri also noted that Katie continued to update her action plan throughout the semester as new and pertinent material came up during the class.  Katie credits the course with getting her back into exercising and being more attuned to her health, physically and mentally.
We are incredibly happy that Katie was able to get back on a routine that positively impacts her health and wellness.  We hope to see her more in the coming semesters and wish her the very best going forward.