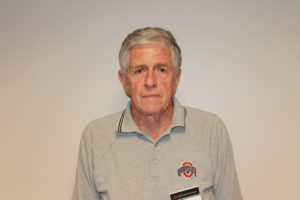 This semester, we are featuring our "Men's Basketball" instructor: Pete Gaudet.  Pete is probably our most experienced instructor having taught and coached the sport for almost five decades.
He started his career in 1968 by teaching high school English and coaching in Westford and Dartmouth, Massachusetts.  He eventually became an assistant coach for the United States Military Academy Men's Basketball team under Mike Krzyzewski.  When Krzyzewski left for Duke in 1980, Pete became the head coach until 1982.  Pete rejoined Krzyzewski in 1983 as an assistant coach for Duke until 1996.  During that time, the team claimed two national championships and made seven Final Four appearances.  In 1996, Pete started working with Vanderbilt as a Men's Assistant Coach but became an assistant to the women's team just a few years later.  That experience eventually brought Pete to Ohio State in 2002 where he was a Women's Assistant Coach, then Video Coordinator, and finally an instructor for the Sport, Fitness, and Health Program.
Even after 48 years of teaching, Pete continues to enjoy it for a number of reasons.  One of his favorite things about teaching is watching his students improve and grow.  He also enjoys hearing from former students about how his instruction helped foster a deeper appreciation for basketball even after they've graduated.  In fact, Pete receives a number of letters and e-mails that credit him for helping former students become coaches themselves.
An interesting fact about Pete is that he has been fortunate enough to travel to over 25 countries to conduct basketball clinics.  Some of the countries that he has traveled to are: Italy, Korea, Nigeria, India, and Israel.